our breathtaking newsletter
Weekly gloriousness sent to your inbox.
Saturday, February 1st - 12:00 PM-2:00 AM

DERF Happy Hour
Keep checking back here to find out where the next DERF Happy Hour will be!
Remote control for Fountain Square TV lost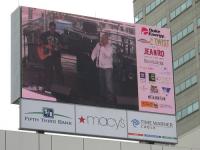 CINCINNATI - For the past several days, visitors to Fountain Square have been unable to change the channel on the jumbotron TV because the remote control is missing. The city is considering declaring a state of emergency until the issue is resolved.

The remote was last seen on Sunday, when it was used to put the Bengals game on the big screen during the Oktoberfest celebration. Details of the whereabouts of the remote control after that are rather sketchy.

"With the rain and the beer and the bratwurst and the weirdness of the Bengals winning, I guess it just kind of got lost in the shuffle," explained Michelle Deering of the Fountain Square Management group, 3CDC. "It could have been pulverized during the chicken dance. Also, the Oktoberfest Homer Simpson mascot has been questioned and searched by police."

Area residents are becoming frustrated with the lack of viewing choices. "I'm about to build some scaffolding, go up there and change the damn channel my own self," lamented Skitch Wendell, a noted downtown wino.

Mayor Mallory has asked for calm, and urges all residents of the city to aid in the search. "Everyone needs to retrace their steps. Perhaps someone brought it with them into the kitchen and left it on the counter? We also all need to take a good look under our couches and between the cushions. But we will get through this together." Mayor Mallory then announced he will be going on a taxpayer funded research trip across America to learn how other cities have coped with the loss of their remote controls.