our breathtaking newsletter
Weekly gloriousness sent to your inbox.
Thursday, April 2nd - 6:00 PM-8:30 PM

DERF Happy Hour
Keep checking back here to find out where the next DERF Happy Hour will be!
Jiffy Lube expands services to include comprehensive life coaching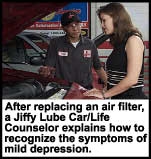 CINCINNATI - In an effort to raise the customer experience beyond car advice, Jiffy Lube has launched a new to set of holisitic service offerings under a program called Multicare.

During an announcement regarding this strategic direction change Jiffy Lube spokesman Mark Andrews said, "We will always take pride in changing oil but our customers told us they are counting on us to help them achieve a stronger sense of self and a clearer life purpose."

Every Jiffy Lube Service Technician is now called a Car/Life Counselor and is trained to offer guidance on a wide array of subjects including the traditional automotive areas such as PCV valves and air filters but also areas including health, nutrition, emotional well-being, relationship dynamics, aromatherapy, Shiatsu massage, and spirituality.

After a recent oil change visit, Jiffy Lube customer Heidi Sellman said, "In past visits I learned a lot about my air filter during the brief car consultation but I still had an empty feeling inside. Now I feel fulfilled because my certified Jiffy Lube Car/Life Coach took the time to explain how the food pyramid can be effectively balanced with the use of vitamin supplements."

Regular customer Carl Wagner commented, "I always change my oil myself but I go to Jiffy Lube whenever I feel I need a new spiritual perspective. The Jiffy Lube Car/Life Coaches not only find a way to teach me something new about PCV valves but they also help me realign the delicate but critical balance of mind, body, and spirit."