our breathtaking newsletter
Weekly gloriousness sent to your inbox.
Wednesday, April 8th - 9:00 AM-7:00 PM

DERF Happy Hour
Keep checking back here to find out where the next DERF Happy Hour will be!
Subtitled movie thoughtlessly shown during illiteracy conference.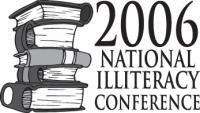 NEW YORK - Embarrassment resulted this week as attendees of the 2005 National illiteracy Conference took an evening entertainment break to enjoy, "La Terra Trema", a subtitled Italian film. Planners inadvertently overlooked the needs of the largely illiterate audience who sat helplessly unable to understand a single word of the subtitles as the movie's plot unfolded. Audience members who were somewhat literate began to read the subtitles aloud for the benefit of the rest of the audience. However, the pressure of the situation made it difficult for the subtitles to be conveyed correctly. Embarrassed event planners eager to make amends for the faux paus only compounded the event's awkwardness by sending wordy apology notes to the hotel rooms of each illiterate attendee. Planners were disappointed that none of the attendees filled out the four page conference feedback form that was given to each attendee.