our breathtaking newsletter
Weekly gloriousness sent to your inbox.
Thursday, April 2nd - 6:00 PM-8:30 PM

DERF Happy Hour
Keep checking back here to find out where the next DERF Happy Hour will be!
Religious services held between church festivals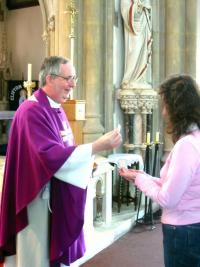 CINCINNATI, OH - Area residents were shocked recently after arriving at local churches expecting a festival but instead finding that Sunday Mass services in progress.

Local clergy realized that holding Mass between festivals may be a bit confusing for residents of Cincinnati. Father Sean O'Brian of St. Margaret explained, "People finally seem to understand what's going on after a while. We try to slowly assimilate the crowds by using funnel cake scented incense within the chapel. We also allowed alcohol and gambling in all areas other than the altar and we turned the holy water basin into a duck pond game.

Local festival goer Derek Freeman eventually caught on, "I knew something was up when I saw the parking lot wasn't all that full," he said. "I'm glad my old lady explained it to me before I tried to play ring toss on those memorial candles."

Other local churches are also finding ways to combine the huge popularity of festivals with their religious services. Ideas include replacing communion wine with draft beer, making the collection plate interactive with pull-tabs, and replacing the sermon with a group discussion on where everyone went to high school.