our breathtaking newsletter
Weekly gloriousness sent to your inbox.
Saturday, June 23rd - 7:30 AM-12:00 AM

DERF Happy Hour
Keep checking back here to find out where the next DERF Happy Hour will be!
Capital of Zimbabwe unaware it had sister city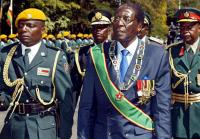 HARARE, ZIMBABWE - Mayor Mark Mallory last week suspended Cincinnati's sister city relationship with Zimbabwe's capital, Harare - in protest against the murders, torture, rapes, and destruction of homes that preceded the recent election. Mallory notified Zimbabwe leaders in a letter saying, "I cannot, in good conscience, allow our relationship to continue when events in Zimbabwe have been violating the central principles of the Sister Cities tradition."

In a brief telephone interview, Zimbabwe President Jacobim Mugatu responded to Mallory's letter from a protected underground government bunker, "What is Cincinnati? I was unaware of any sister city. More importantly my country is collapsing under the weight of economic mismanagement resulting in 85% unemployment and hyperinflation. I must concern myself with ending the mass murders and systematic torture of my people. Perhaps then I can learn of this Cincinnati and Mr. Mallory." The interview ended abruptly as the sound of heavy gunfire was heard across the phone line. President Mugatu was not available for further comment.