our breathtaking newsletter
Weekly gloriousness sent to your inbox.
Wednesday, February 19th - 5:00 PM-9:00 PM

DERF Happy Hour
Keep checking back here to find out where the next DERF Happy Hour will be!
Monkey escapes from Cincinnati zoo, returns to City Council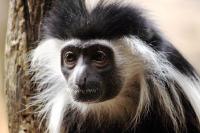 CINCINNATI - After many requests to leave the zoo and return to his seat on Cincinnati's City Council, a white-handed gibbon named Euell took matters into his own hands this week and successfully escaped from the zoo. Elected to City Council in 2004, the thirty-seven year old Euell was living at the zoo for the past two years on a sabbatical from City Council.

At the end of his sabbatical Euell requested his release from the zoo. However Euell's keepers had forgotten he was originally a member of City Council and subsequently denied his release. At that point Euell had no choice but to orchestrate his escape.

While looking for his car in the parking lot, Euell had an altercation with a zoo visitor. Euell commented, "I was frustrated because I couldn't remember where I had parked my car several years earlier when I arrived at the zoo. The stress of the whole situation overwhelmed me and unfortunately I lashed out by biting the man on the leg. I sincerely apologize."

Council Members were unanimously positive regarding Euell's return to council. Council Member John Cranley commented, "Euell is a respected colleague and we're delighted to have him back."