our breathtaking newsletter
Weekly gloriousness sent to your inbox.
Sunday, March 1st - 12:00 PM-4:00 PM

DERF Happy Hour
Keep checking back here to find out where the next DERF Happy Hour will be!
Sarah Palin entertains family with mean-spirited Tina Fey impersonation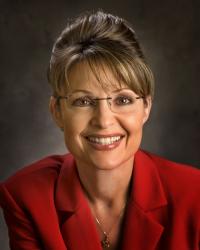 ANCHORAGE - Sarah Palin's family members say they've had a lot of laughs recently at the expense of Tina Fey, star of Saturday Night Live and 30 Rock. Reportedly the Republican Vice Presidential candidate has kept her family laughing with a surprisingly accurate impersonation of Tina Fey.

Sources close to the family say Sarah Palin began her impersonation by saying, "Hey look it's me funny lady Tina Fey on 30 Rock! What, you don't know what 30 Rock is? Well you're not alone. 30 Rock is my famous award-winning show that no one watches!"

Palin's husband Todd said the part he liked best was when his wife added a few extra jokes to her routine, "Hey what's the difference between Tina Fey and a pit bull? One is an ugly vicious beast and the other is a dog."

Palin's 18 year-old daughter Bristol conveyed to a friend another of her mom's jokes, "What's the difference between Tina Fey and a prostitute? A W2."

Todd Palin added, "Sarah really nailed it! I can't describe how much our family hates Tina Fey. My wife's jokes have helped us express this hatred together in a humorous and positive way."

---
Best way to spend the next 11 seconds? Grab an account on the
Derf Message Boards
. Be heard on any topic....sports, music, dating, politics, nightlife, giving back, etc.
---