our breathtaking newsletter
Weekly gloriousness sent to your inbox.
Friday, January 24th - 4:00 PM-9:30 PM

DERF Happy Hour
Keep checking back here to find out where the next DERF Happy Hour will be!
Israel and Palestine to learn from successful U.S. / Canada ceasefire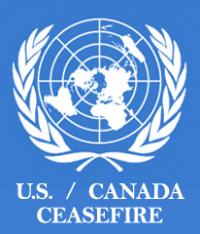 NIAGARA FALLS, NY - The United Nations Security Council announced this week the formation of an envoy consisting of Israeli and Palestinian diplomats who will travel to the U.S. / Canadian border to learn from the longstanding ceasefire between the two countries.

The ceasefire between the U.S. and Canada has held strong for centuries and is regarded as one of the greatest peace accords in the history of the world. U.N. leaders believe Israel and Palestine may be able to reapply elements of this successful U.S. / Canadian peacekeeping philosophy.

A spokesman for the Palestinian territories said, "This ceasefire is truly remarkable. Canada is weak and defenseless yet never has to fight to defend her blessed territory. How can two countries so close to each other never attack one other for 200 years?"

An Israeli diplomat in the envoy commented, "It is remarkable the U.S. doesn't go into Canada and take most valuable parts for themselves. If I was United States, I would have great hatred for the rotting stench of evil Canada. It is hard to believe entire generations of people have never seen a missile or known anyone killed in a bus station bombing, etc."