our breathtaking newsletter
Weekly gloriousness sent to your inbox.
Wednesday, February 19th - 5:00 PM-9:00 PM

DERF Happy Hour
Keep checking back here to find out where the next DERF Happy Hour will be!
T.J. Houshmandzadeh miraculously maintains straight face while saying 'decision to leave was difficult'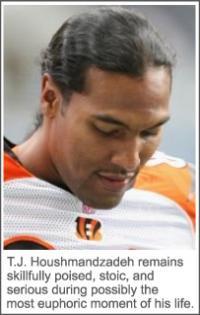 SEATTLE, WA - T.J. Houshmandzadeh is prepared to begin the next phase of his football career after signing as a free agent with the Seattle Seahawks. But after an impressively convincing acting performance during his statements about the difficulty of deciding to leave the Bengals, the next phase of his life after football may be in Hollywood.

While talking about his decision to leave the Bengals, T.J. refrained from smiling, laughing, or chuckling as he said, "It was tough. It wasn't an easy decision. It was a lot more difficult than I thought it would be." Although several reporters were heard chuckling in the press room, Houshmandzadeh remained poised and stoic. Never did his voice of face reveal his elevated euphoric feelings about leaving the Bengals.

Moments after the announcement, communication circuits and wireless carriers in southern California strained to deal with the overload of activity. Agents, producers and actors worked the phones to discuss this momentous performance.

"I am ready to buy every copy of every movie I have ever made and have them destroyed," declared an emotional Meryl Streep. "I thought I understood something about my craft, obviously I have a great deal of work to do. I am truly humbled by the talents of this man."

Director Martin Scorsese was also impressed. "I can't wait to see his future work. I would be honored to direct him, though I doubt that he needs any direction. He reminded me of DeNiro in Raging Bull, but with better hair."

Robert DeNiro himself also generously praised on the wide receiver. "Usually I see these performances and just kinda roll my eyes. It's the same old garbage...'I didn't take steroids.', 'I didn't bet on baseball', 'I didn't cheat on my wife'....but this makes Sir Lawrence Olivier look like a community theatre hack."

The Academy of Motion Picture Arts and Sciences immediately convened a committee to establish a special sports related Oscar, which T.J. will receive during next year's telecast.