our breathtaking newsletter
Weekly gloriousness sent to your inbox.
Friday, July 26th - 12:00 PM-12:00 AM

DERF Happy Hour
Keep checking back here to find out where the next DERF Happy Hour will be!
Animal control officers kill Shih-Tzu mistaken for vicious Pit Bull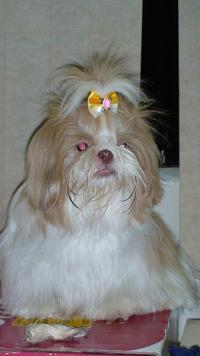 CINCINNATI - In another apparent case of mistaken dog identity, an animal control officer gunned down a pure breed Shih-Tzu named Melissa after confusing it with a Pit Bull.

Heather Braden was walking Melissa through a park near her Price Hill home when a Cincinnati Animal Control vehicle screeched to a halt next to her. Several Animal Control officers jumped from the van and shot Melissa over 20 times at point blank range.

Officer Ronald Charles claims the dog resembled a Pit Bull through the protective face mask worn by Animal Control officers. "I realize now this dog was a Shih-Tzu, but in the heat of the moment my colleagues and I felt the animal had many features of a Pit Bull. In the right light, Shih-Tzus can look very fierce. We also mistook the animal's pink decorative forehead ribbon for a Pit Bull fighting emblem."

No official comment has been released by the animal control office. The officer is said to be on a paid training seminar in which he'll watch old tapes of the Westminster Kennel Club Show.

Ms. Braden has hired an attorney, and may seek out a class action suit with the other local dog owners who have had their dogs mistaken for pit bulls. They've included breeds including Pekingese, Miniature Schnauzers, Labradoodles, and the UC student who wears the Bearcat mascot costume.