our breathtaking newsletter
Weekly gloriousness sent to your inbox.
Saturday, May 26th - 1:00 PM-1:00 PM

DERF Happy Hour
Keep checking back here to find out where the next DERF Happy Hour will be!
Barney Frank unable to concentrate during Brad Pitt visit to Capitol Hill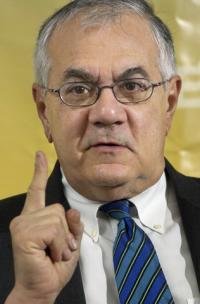 WASHINGTON, DC - After Brad Pitt's visit to Capitol Hill, members of Congress praised his charity and efforts to rebuild New Orleans. But the visit had the unintended consequence of overwhelming Congressman Barney Frank's mind.

Congressman Frank's strange behavior began when he was informed that Brad Pitt was in the Capitol building. He excused himself from a committee meeting and rushed to his office and later emerged wearing a pair of chaps and an excessive amount of cologne. His aides were able to forcibly bring him back into the office to change.

Later, Frank had an opportunity to meet Pitt and talk about the rebuilding of New Orleans' 9th ward. Frank was dreamy eyed and silent while Pitt spoke, and said, "You know, my garden also needs some rebuilding. It's hot, sweaty work so maybe we can take our shirts off and do it together?"

Days after Pitt's visit, sources report Frank is still consumed with thoughts of Brad. Responding to a question on the house floor about the stimulus bill, he replied, "I would like it read into the congressional record that I've met an angel on earth. I'm not going to say his name but let's just say his initials are the same as a major petroleum company."

Congressman Frank has also introduced several pieces of legislation about his obsession. One bill demands Congress to fund sequels of Fight Club, and Ocean's 11, 12, and 13 starring only Brad Pitt. Another bill proposes Brad Pitt's birthday a national holiday. A third bill suggests a federal mandate that Angelina Jolie be deported.