our breathtaking newsletter
Weekly gloriousness sent to your inbox.
Saturday, May 26th - 1:00 PM-1:00 PM

DERF Happy Hour
Keep checking back here to find out where the next DERF Happy Hour will be!
Obama to use Nobel Peace Prize money to fund Afghanistan troop increases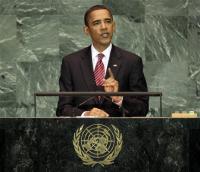 WASHINGTON, DC - Upon learning that his Nobel Peace Prize includes a cash award of 1.4 million dollars, President Obama has pledged to use the money to help fund the war in Afghanistan. The money will be put to use after Obama receives it from the Nobel committee.
The President considered a few different ways to spend the money before making his decision. Initially, he planned to buy a more advanced swing set for his daughters, but his aides worried that there would be political backlash for spending the money on such frivolous purchases. Ultimately, it was decided that using the Nobel Peace Prize money to fund the war effort would be a much better choice.

It is not clear how the money will specifically be spent. "In the grand scheme of things,
1.4 million is not a lot of money," explained President Obama. "Maybe it will only buy one tenth of a missile or a couple cases of ammo. What's important is that everyone sees that I am putting this Peace Prize money to good use."

Nobel officials seemed a bit confused upon finding out that money from a Peace Prize was being used to fund a war. However, after some discussion, they came to a consensus that it was a brilliant idea, and are now considering Obama for next year's Nobel Prize in economics.