our breathtaking newsletter
Weekly gloriousness sent to your inbox.
Saturday, June 23rd - 7:30 AM-12:00 AM

DERF Happy Hour
Keep checking back here to find out where the next DERF Happy Hour will be!
Governor Taft petitions court to suppress embarrassing golf scores.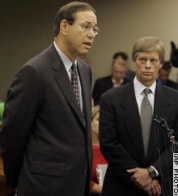 COLUMBUS, OHIO - On the heals of Governor Taftís conviction for failing to report golf outings, attorneys for the Governor sought to prevent further embarrassment by formally asking the court to seal the Governorís golf scores. In an emotional statement to the court, the Governor stated he was deeply embarrassment by many of the high scores including one particular round of 18 holes in which the Governor scored 126. In his plea for the courtís compassion the Governor commented, "If these scores get out Iím ruined. My family doesnít deserve this kind of humiliation." While reviewing the Governorís actual scorecards the Judge shook his head in disbelief noticing scores consistently two to three strokes over par on every hole. Later during a private meeting in the Judge's chambers, the Judge harshly critiqued the Governor's golf swing pointing out several fundamental flaws.
In return for sealing the golf scores, the Governor agreed to make several swing corrections and he committed to spending more time focused on his short game.