our breathtaking newsletter
Weekly gloriousness sent to your inbox.
Friday, July 26th - 12:00 PM-12:00 AM

DERF Happy Hour
Keep checking back here to find out where the next DERF Happy Hour will be!
Osama Bin Laden under investigation for misreporting actual costs of terrorist operations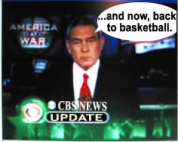 The latest in a string of high profile faulty accounting scandals, investigators believe Osama bin Laden may have misreported or omitted many costs associated with operating his worldwide Al Qaida terrorist organization. Officials say bin Laden faces a possible jail sentence of up to one year for fiscal mismanagement. Congressman Dick Gephardt, D-Miss said, "This kind of blatant dishonesty breeds mistrust amongst the American people and undermines the confidence in our accounting practices. If it is determined that bin Laden failed to meet his fiduciary obligations, we will seek out the mandatory penalty." By videotaped message amongst a backdrop of sand and a large rock, Mr. bin Laden responded to the accusations, "I have no personal knowledge of any intentional deception. It is possible an accounting ledger may have fallen off the back of a camel while we were moving from one cave to another."