our breathtaking newsletter
Weekly gloriousness sent to your inbox.
Friday, November 22nd - 11:00 AM-9:00 PM

DERF Happy Hour
Keep checking back here to find out where the next DERF Happy Hour will be!
Andy Daltonís cast, Johnny Manzielís wig highly sought after by collectors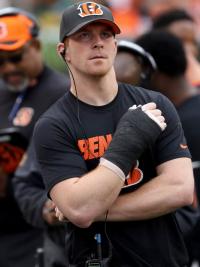 CANTON, OH - With the 2015 NFL regular season coming to a close, fans are reflecting on some of the great moments the year had to offer. In addition, memorabilia collectors are seeking out some of the iconic collectibles that are available from the 2015 season. Recently added to the top of that list are Cincinnati Bengals QB Andy Dalton's cast, and Cleveland Browns QB Johnny Manziel's undercover blonde wig.

Even before having his cast removed, Andy Dalton was inundated with requests for it. "I had some shady guys following me around," said Dalton. "Normally, I would just figure they were overzealous Bengals fans, or maybe Steelers fans trying to steal my soul. But then the started asking about the cast. One guy even flashed a wad of bills and a knife and said he'd pay me five hundreds bucks if I let him take it off himself. Thankfully, I finally qualified to enroll in the Bengals health insurance policy this year, so I did not take him up on it."

Experts on the NFL collectibles market say that the items are very highly sought after, and thus could command large sums of money. "The Dalton cast is a piece that would sell for at least six thousand dollars in my shop," said Kevin Cochran of KC Collectibles. "The ideal buyer would be a Cincinnati Bengals fan who wants a great part of Bengal history. It speaks to the long suffering of Bengal fans and great hopes that end up restricted. It also kinda smells, much like the men's rooms at Paul Brown Stadium. The Manziel wig is a piece that I anticipate will sell soon for at least ten thousand dollars. It's a very interesting piece because it transcends the world of sports collectibles, entering into the world of clownish douchebag collectibles. It also kinda smells like the PBS mens room. Perhaps because Johnny Football dropped it in there when he disappeared from the sidelines to grab a few brews during the game."

As is always the case, these items are being sought after by both investors and by curators seeking them for their historic value. "I think the Dalton cast would look great in a Bengals display at the NFL Hall of Fame in Canton," explained Cochran. "And the Manziel wig will also probably be in a museum someday. Though, it may not be a football museum. It'll skyrocket in value and have all kinds of interest after Johnny commits a drug-fueled armed robbery while he's wearing it."