our breathtaking newsletter
Weekly gloriousness sent to your inbox.
Friday, July 26th - 12:00 PM-12:00 AM

DERF Happy Hour
Keep checking back here to find out where the next DERF Happy Hour will be!
Steve Harvey to announce Bengals starting playoff game QB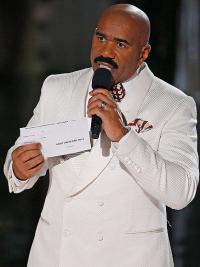 CINCINNATI, OH - Following a 12-4 season and a birth in the playoffs, Cincinnati Bengal fans are excited for their first round game against the Steelers. There are still questions, however, as to whether quarterback Andy Dalton will start the game, or if it will be backup AJ McCarron. The Bengals organization now says they will make the announcement in a star studded ceremony, hosted by Steve Harvey.

"There is a lot of uncertainty right now," said Bengals owner Mike Brown. "I'm not sure which quarterback is going to start. I'm not sure when we will know. I'm not sure how healthy that quarterback will be. But there is one thing I do know. The final announcement will be made a few hours before game time. It will be made in a beautiful setting full of beautiful people. And it will be made by the great Steve Harvey. That fella sure knows how to fire up a crowd."

"It's a thrill to be invited," said an excited Steve Harvey. "Heck, it's a thrill to be invited anywhere considering, uh, recent events. But the Bengals said that they are a team that likes to give second chances. And, my appearance rate is currently well within their budget. Actually, I'm also available for kids' birthday parties."

Mr. Harvey insists the mixup that occurred during the Miss Universe pageant could not possibly happen again. "I gave very specific instructions to the organization," explained Harvey. "When they hand me the envelope, I told them to make sure to write both names. That way I will be sure of the one I have to say, but I will also be sure of the one I'm not supposed to say. Then I told them to make sure they make some kind of mark or something next to the name I should announce, and another mark next to the one I'm not supposed to announce. We got this. It's gonna be a good time. Hopefully, there will be an open bar."

The Bengals coaching and medical staffs were happy to find out that the announcement is going to be made in such a grand ceremony. "This takes the attention away from us for a while," said Bengal trainer Brian Bailly. "We don't have to deal with all the media calls and requests for information and speculation. At the end of the day, I'm sure Steve will do a great job and everyone will be happy. After all, it's playoff time for the Bengals. What could possibly go wrong?"