our breathtaking newsletter
Weekly gloriousness sent to your inbox.
Friday, December 6th - 5:00 PM-10:00 PM

DERF Happy Hour
Keep checking back here to find out where the next DERF Happy Hour will be!
Johnny Manziel purchases Super Bowl ad time to kickoff job search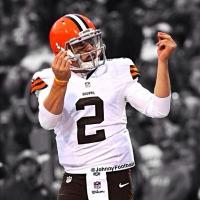 CLEVELAND, OH - With his future in the National Football League up in the air, Cleveland Brown's quarterback Johnny Manziel decided to not sit idly by and wait to see what his future holds. Johnny Football used a large portion of his Cleveland Browns signing bonus to buy airtime during the Super Bowl to run a commercial in which he is looking for a job.

"What up, party people!" exclaims Johnny in the opening of the commercial. "Who wants to make their football team, organization, or general workplace a bonafide party scene, yo?" I've got mad skills. I can jump and run and throw. I can also drink lots and lots of alcohol and still make a woman be quiet or put her in her place. References available upon request."

The ad then takes a turn, as "Angel" by Sara McLachlan plays in the background and a narrator urges America to take action by giving Johnny a home. "Please, take a moment to think about what you can do to help," says the narrator. "We live in the land of plenty. There is no reason that a pathetic, helpless creature like Johnny should be allowed to roam the streets."

The ad has scored mixed reviews in advertising circles. "Superbowl commercials are often best when they are lighthearted and fun," said Kirby Walls of AdAge Magazine. "However, this commercial really tugs at your heartstrings as you consider the fate of this poor, demented individual. Sure, the commercials with talking animals might make you laugh, but this ad with a talking, barely functional human being really makes you think."