our breathtaking newsletter
Weekly gloriousness sent to your inbox.
Saturday, October 26th - 12:00 PM-5:00 PM

DERF Happy Hour
Keep checking back here to find out where the next DERF Happy Hour will be!
Low quality copy of NCAA brackets creates office pool havoc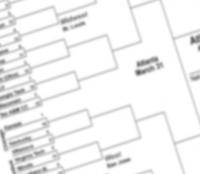 CINCINNATI - Unreadable NCAA basketball tournament brackets made by a malfunctioning copy machine set off a firestorm of resentment and ill feelings this week amongst a group of US Bank office workers.

US Bank employee Mark Watkins did not notice the copies were out of focus before distributing a copy to everyone who agreed to participate in the NCAA office pool. After each department member submitted their NCAA selections, arguments erupted immediately after the opening round of games. Because of the lack of document clarity many college team names were difficult to distinguish from each other such as UGA and UNC. The legibility was so poor even team names such as Butler and BU were difficult to distinguish.

Several employees say the Retirement Plan Administration department has not seen this level of infighting since the great 401K debate of 2005 ignited by confusion over 401K related federal tax law changes.

Watkins commented, "I take full responsibility for this. This caused a lot of hard feeling amongst the group. I should have performed a routine quality control check but the excitement of the tournament distracted me and caused me to lose focus. Luckily there seemed to be no mixups with UK. I'd like to wish my cats all the best this year!"

In an intra-departmental email Watkins apologized to the entire department for the confusion and included an additional apology for a still unresolved issue he caused when organizing the 2007 Superbowl pool. Under heavy scrutiny Watkins also submitted a letter of resignation.

Department Manager Judith Carrey stepped in to schedule a series of group team building sessions to help the team regain a sense of trust and mutual respect. Carrey commented, "This type of negligence reflects poorly on every member of this department and is completely unacceptable within a banking organization. We will be forced to work almost unlimited overtime just to determine who is leading our bracket pool. The basketball games are no longer fun us. Instead they represent pain and anguish."

Carrey mentioned she also plans to hire an outside independent accounting firm to assist in the process of making the correct determination. Many of the affected employees believe the winner must be correctly identified to bring closure to the issue and help individual department members regain a sense of normalcy.