our breathtaking newsletter
Weekly gloriousness sent to your inbox.
Sunday, March 1st - 12:00 PM-4:00 PM

DERF Happy Hour
Keep checking back here to find out where the next DERF Happy Hour will be!
NCAA TOURNAMENT UPDATE
by Sarah Leugers, DERF Sports Columnist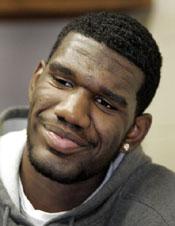 GREG ODEN IS OLDER THAN YOUR DAD.
COLUMBUS, OHIO - I don't care how old you are. Oden's older than your pops. And he may have even aged a couple more years when the game against Xavier went to overtime. His face is so wrinkled, one of the crevasses in his forehead rivals the crack in the earth Lois Lane fell into in the first Superman movie. Unless he's been diagnosed with Patrick Ewing's disease (the polar opposite of the Emmanuel Lewis Syndrome), I'm fairly sure he was a soldier in the Korean conflict. Which may also explain his violent molestation of Justin Cage under the basket at the end of regulation. It's called Post Traumatic Stress Disorder. You can look it up.

COACH K POOPS HIS PANTS.
UK fans found consolation in the tournament this year despite their sloppy second round loss, by watching Duke fall to a team you've never heard of. Yep, they were put away by VCU. Apparently that stands for Virginia Commonwealth University. After the game, Coach Krzyzewski ran in circles around the top of the key, screamed at all the refs until he realized that there was no controversy, and then released his loose bowels. And UK fans laughed and laughed.

HOT LESBIAN ACTION IN NCAA TOURNEY.
In a scandal that rocked the women's basketball world, eyes widened and jaws dropped when people learned that a gay woman had been in a head coaching position in the NCAA. I know! I'm as shocked as you are. But at least it's fun to watch ESPN anchors and commentators deliver the story in "just the news" speak when they're desperately suppressing about a hundred jokes, barbs, and innuendos that are trying to get out. Personally, I suspect someone "leaked" the story just before selection Sunday to arouse interest and get more than just former players to watch the ladies ball. I'm afraid that hinting around girl-on-girl action isn't enough to tempt viewers to tune in. Maybe if a video is somehow spread around online next year? Just brainstorming.

LADY YOU DONT LIKE IS WINNING OFFICE BASKETBALL POOL.
Precisely fitting the profile of an office pool winner, that one lady who doesn't know anything about basketball, picks winners based on uniforms or mascots, and probably has a poster of bare-chested firemen in her cube is leading the office NCAA pool. She doesn't know what states most of the colleges are in. But every year in every office in every company across America she wins the office pool. She doesn't plan to watch a single game because to her it's not actually about the games. The total extent of her involvement and interest in the tournament is checking the status of her bracket choices on the internet. When she ends up taking the pot in the end, she'll be sure to let you know the about the intellectual subtleties behind her winning strategy.