our breathtaking newsletter
Weekly gloriousness sent to your inbox.
Saturday, February 1st - 12:00 PM-2:00 AM

DERF Happy Hour
Keep checking back here to find out where the next DERF Happy Hour will be!
The Bengals Draft, My Way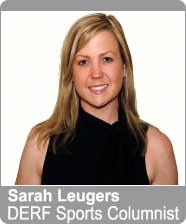 By Sarah Leugers, DERF Sports Columnist

The prevailing feeling about the Bengals draft was exceptionally tepid. The city's popular vote gave the organization a B; the national press agreed. We did OK. Hopefully we have some rebuilding in defense for the short- and long-term. And we're providing solid future back-up for critical offensive positions. One high point of this draft is that Marvin Lewis seems to have passed the "questionable character" baton to a surprising Bill Belichick, who signed a potential cancer Randy Moss and a brawlin', gun-pullin', cleat stompin young gun in Brandon Meriweather. I think I know how this story's gonna end. I just wish I could be in Boston to watch New England fans lose their minds when the arrests, skirmishes, and bad press start to mount. But now for a snapshot of the first few picks, as the Bengals drafted, compared to how the Bengals should have drafted.

Who We Drafted
An Incan Statue, CB, Michigan
Confession: I deliberated on this one. To be fair, as much as Leon Hall resembles an Incan statue, he looks just as much like Soul Man, the white dude played by C. Thomas Howell who overdosed on tanning pills to get into Harvard on a minority scholarship. I will say that it is promising to have a reportedly technical "NFL-ready" cornerback who can actually tackle, to improve our ailing secondary. Let's just hope he doesn't choose to play a game of soccer with the decapitated heads of his opponents. Unless it's Joey Porter.

Who We Should Have Drafted: Supernanny Have you seen this woman turn hateful, insubordinate little brats into respectful charming children? Willie Anderson is reportedly a "character guy" and a locker room leader, but he clearly wasn't able to get the job done keeping the young guys out of trouble. It's time to bring in the big guns. This woman does not f--- around. Plus, how much would you pay to watch a homely British lass try to discipline and reason with huge, arrogant dudes from the hood? I'd tune in.

Who We Drafted
Kenny Irons, RB, Auburn Recent history has shown a slew of Auburn backs who have performed beyond their projected ability in the NFL, including our own Rudi Johnson. Let's hope that the trend continues with durable back, Kenny Irons. With a name like Irons, he's gotta be tough.

Who We Should Have Drafted
Bill Romanowski. Now hear me out. Sure, he could potentially destroy the Bengals already damaged reputation for character, but at the apex of his 'roid rage, Romanowski hit people really, really hard. The NFL obviously lags behind MLB and still turns a deaf ear to steroid use, as evidenced by Shawne Merriman being considered for Defensive Player of the Year, despite being suspended for four games for abusing steroids. So no worries there. And despite being over the hill, Romo would unquestionably lend some intensity to a defense that, since the loss of Odell Thurman, appears not to enjoy hitting, tackling, etc. You know… those things that defensive players "do." I figure with Supernanny as watchdog, even Romo will refrain from crushing his teammates' eye sockets and kicking opponents in the head. She would for sure send him to Time Out.