our breathtaking newsletter
Weekly gloriousness sent to your inbox.
Friday, July 26th - 12:00 PM-12:00 AM

DERF Happy Hour
Keep checking back here to find out where the next DERF Happy Hour will be!
Time for Reds, Coutlangus to Get Freaky on Pujols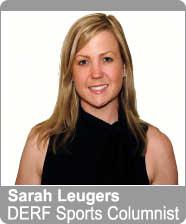 By Derf Sports Columnist Sarah Leugers

To claw back from their sorry position having the worst record in baseball, the Reds need to come with something new. My original proposal of Asian infusion isn't likely to befall Cincinnati anytime soon, so what's it gonna be?
The pitchers need to take matters into their own hands and get off with some wins. The road trip in St. Louis is our chance. Pujols (say it with me), once the Cardinals little star, has been rather crappy this season. Frankly, Pujols' game is in the toilet. And when Pujols is on the skids, it's our opportunity to get some.
It's time for Coutlangus to go down and dirty on Pujols. In fact, Coutlangus can skip the balls entirely. He desperately needs to give Pujols some fast and nasty, action. Really put the heat on him. Cardinals pitcher Johnson may have something big to give back to the Reds on the other side. But I'm quite sure that Aaron Harang, the huge left hander, will have something to give right back to Johnson later in the series. He's really starting to find his stroke in recent weeks.
Perhaps, and I think Eric Davis would agree, Mayor Mallory put a jinx on the season with his opening day pitch. Having tried and failed to redeem his slider on late night programming, Mallory has since rumored to be "all time pitcher" at every pick up game in town to compensate for his folly. But it's time to change all that and lift the Mallory hex. We need a rebirth of the Nasty Boys of 1990, and we need them to do their thing and take us home every night. Come on, Reds! In the immortal words of Mills Lane: Let's get it on!