our breathtaking newsletter
Weekly gloriousness sent to your inbox.
Saturday, October 26th - 12:00 PM-5:00 PM

DERF Happy Hour
Keep checking back here to find out where the next DERF Happy Hour will be!
Barry Bonds inducted into Steroid Hall of Fame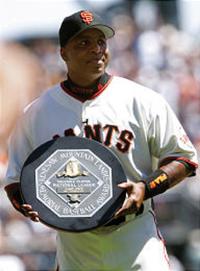 SAN FRANCISCO - After surpassing Henry Aaron's 33 year-old home-run record and taking his place as baseball's career home-run leader, Barry Bonds appeared at the Steroid Hall of Fame in San Francisco to be inducted. The Steroid Hall of Fame is built as an extension to the BALCO Steroid Factory, America's largest steroid producer founded by Victor Conte. Visitors of the Steroid Hall of Fame are greeted with by a billboard sized placard that reads, "Better Sports Through Chemistry".
The large audience on hand for the Barry Bond induction included many former inductees such as Olympic Sprinter Ben Johnson, NFL great Bill Romanowski, and all members of the 1976 East German women's swim team. After accepting the award, an emotional Bonds said, "First and foremost I want to thank my best friend Tetrahydrogestrinone. Without Tetrahydrogestrinone I certainly wouldn't be here today. I would also like to thank some of the brave performance-enhancing substance abuse pioneers including Mark McGwire and Jason Giambi. And special thanks to Jose Canseco - Thanks Jose for having the courage to jam that needle in my butt when I still wasn't sure if it was the right thing to do."