our breathtaking newsletter
Weekly gloriousness sent to your inbox.
Saturday, February 1st - 12:00 PM-2:00 AM

DERF Happy Hour
Keep checking back here to find out where the next DERF Happy Hour will be!
Bob Huggins ups his pimp game.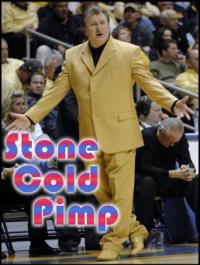 It's hard out there for a coach.

MORGANTOWN, W.Va. - Bob Huggins rolled up full on pimp last week for the game against his former team. Pimped fly in gold threads and matching shoes, Huggins showed the haters how to represent straight up. Fan of both teams immediately noticed Huggins' hardcore pimp juice was seriously illin' up in here. Huggins established some street cred in a statement he made during a pregame press conference, "Aight listen up. You may have heard Coach was mackin shortys three layers deep at the club last night like back in the day. True dat plus I might of had too many 40's but ain't no thang. The popo's was hatin' most def but don't be trippin'. My team is here to represent for real. Our sh** is tight. Know what I'm sayin?"

Unfortunately Coach's team suffered a 23 point beat down by the Bearcats for real. Huggins was characteristically emotional during the game and was often heard yelling across the court at UC Coach Mick Cronin, "You ain't got skillz son! You ain't prime time dog! You're lookin' at old school Bearcat up in here." Also, Huggins repeatedly accused Coach Cronin of frontn'. Throughout the game the referees warned Huggins about his outbursts but Huggins repeatedly told them to step off and on one occasion he revealed a Mac 10 under his jacket as a measure of intimidation.

Following the humiliating loss Coach Huggins was visibly irritated during the post game press conference. When asked what he would do to improve the performance of his players, he responded, "Am I gonna have to choke a bitch? Seriously. No doubt my players didn't represent. But also them refs was illin'. Know what I'm sayin'?" Reportedly Huggins was later seen pistol-whipping several players in the team locker room.