our breathtaking newsletter
Weekly gloriousness sent to your inbox.
Saturday, August 24th - 1:00 PM-1:00 PM

DERF Happy Hour
Keep checking back here to find out where the next DERF Happy Hour will be!
Brett Favre schedules new series of press conferences to reconfirm retirement plans.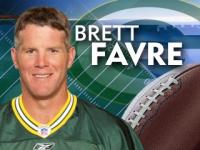 GREEN BAY, WI - Brett Favre announced today he plans to hold another national press event to re-announce his decision to retire from the NFL. During preliminary press conference to announce the new press conference, Favre stated in he is holding this new press event in case there were any media coverage gaps in the first announcement last month. However, sources report Favre's previous retirement announcement was widely covered throughout the U.S. and world press including ESPN, ESPN II, ESPN III, ESPN Desportes, NBC Sports, ABC Sports, Fox Sports, HBO Sports, Yahoo Sports, AOL Sports, Sports Illustrated, The Wall Street Journal, The New York Times The Green Bay Times, and local TV stations and newspapers in over 200 U.S cities.

Favre said the exact date of his re-announcement depends on the satellite linkage capabilities of all of the major news organizations. Favre commented during the pre-conference attended by over 6,000 members of the media, "As soon as the technical satellite details can be worked out, we will announce a conference data at which time I will notify the country and the world that I ams till retired from the NFL. In the meantime I would like to thank my wife, my children, my coaches, teammates, The city of Green Bay, The Packers organization and Ownership, and especially the fans for supporting me throughout my entire career which I has officially ended."