our breathtaking newsletter
Weekly gloriousness sent to your inbox.
Sunday, March 1st - 12:00 PM-4:00 PM

DERF Happy Hour
Keep checking back here to find out where the next DERF Happy Hour will be!
Robbie Knievel injured on teacup ride after setting jump record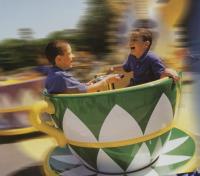 CINCINNATI - Following a successful record-setting motorcycle jump over forty trucks at the King's Island Amusement park this week, daredevil Robbie Knievel suffered a severely sprained neck on the teacup ride while enjoying time with his family on the park rides. The ride was temporarily closed when Knievel indicated he was injured. With the exception of several children crying due to the shortened ride, the crowd was silent and tense as paramedics carefully removed Knievel from the ride. The chilling scene ended with cheers from the crowd as Knievel indicated he was able to move by waving at fans from the gurney while being rolled into an ambulance.

A Knievel spokesman believes the rapid spinning motion of the ride may have created a whiplash effect causing the neck injury.

There were no injuries to other passengers on the ride which included mostly children ages 8 and under. King's Island officials said this incident is the only injury ever reported on the teacup ride. A King's Island spokesman commented, "A four year old vomited on the ride in 2004 but that is the extent of difficulties reported on this ride."