our breathtaking newsletter
Weekly gloriousness sent to your inbox.
Friday, December 13th - 5:00 PM-10:00 PM

DERF Happy Hour
Keep checking back here to find out where the next DERF Happy Hour will be!
BODIES Exhibit cadaver discovered to be Marty Brennaman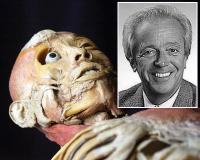 CINCINNATI -Officials at the Cincinnati Museum Center announced this week the surprising discovery that one of the cadavers in the BODIES Exhibit is actually Marty Brennaman, longtime voice of the Cincinnati Reds. The discovery was made after several museum visitors remarked that one of the cadavers looked like Marty Brennaman.

After closer inspection, officials immediately removed the body from public display and called for emergency assistance. Paramedics successfully revived Mr. Brennaman.

During the investigation of the incident authorities learned that Mr. Brennaman collapsed during a special VIP viewing of the BODIES Exhibit several nights earlier. Because none of Mr. Brennaman's colleagues noticed his collapse, he unfortunately laid unconscious in the display area over night and was not discovered for several days. Authorities estimate several thousand museum visitors viewed Mr. Brennaman while he was unconscious. This may have contributed to the unprecedented popularity of the exhibit.

Dr. Roy Glover, associate professor emeritus at Lansing Community College and chief medical director for the BODIES exhibition said, "This will change the way people see Marty Brennaman. This was a one-of-a-kind opportunity to come face-to-face with Marty Brennaman in a way never seen before. It's the ultimate Marty Brennaman anatomy lesson, giving visitors the opportunity to view the beauty and complexity of Marty Brennaman. For centuries, the medical community has learned about human anatomy through the study of generic human bodies, but for a few brief days we were blessed with the unique opportunity to learn specifically about the body of Marty Brennaman, longtime voice of the Cincinnati Reds."
Related Stories