our breathtaking newsletter
Weekly gloriousness sent to your inbox.
Monday, May 27th - 1:00 PM-1:00 PM

DERF Happy Hour
Keep checking back here to find out where the next DERF Happy Hour will be!
Ken Griffey Jr. heads back to Seattle, knees and hamstrings in carry-on bag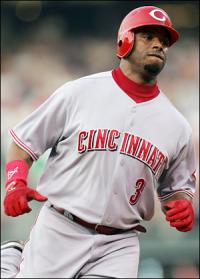 SEATTLE, WA - Ken Griffey Jr. is rejoining the team where it all began, the Seattle Mariners. Also accompanying him on the trip are his knees and hamstrings, which were packed safely in his carry-on luggage. Griffey checked luggage that contained several lower back muscles, wrist tendons, and a shoulder socket. The only body parts that did not make the trip were several smaller soft tissue components that were previously mistaken for Great American Ballpark hotdogs.

Griffey is excited at the prospect of playing another season in Seattle where he had a great deal of success in his early career. Griffey told reporters he wanted all of his body parts to come along for the trip so they could all experience the new memories together.

"It just wouldn't be the same coming back to Seattle without them," said the 39 year-old slugger. "Of course, when they were with me here originally, they were actual parts of my body and not torn up relics that I keep in a sack at the bottom of my locker."

After arriving in Seattle Griffey was informed by Delta Airlines that his luggage had been misplaced. Delta officials believe the body parts may have re-routed themselves by force of habit to Florida for spring training.

When Griffey's body parts are recovered, they are eventually expected to be shipped to a special exhibit in the Baseball Hall of Fame featuring Kerry Wood's blown out arm, Bo Jackson's hip, and Lou Gehrig's DNA. One of Griffey's cracked elbows will remain in Cincinnati at the BODIES Exhibition next to Marty Brennaman.