our breathtaking newsletter
Weekly gloriousness sent to your inbox.
Friday, October 18th - 7:00 PM-2:00 AM

DERF Happy Hour
Keep checking back here to find out where the next DERF Happy Hour will be!
Joey Votto accepts air traffic controller position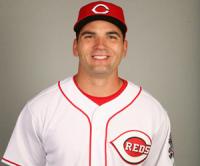 CINCINNATI – After returning to Cincinnati during a recent Reds road trip, Reds first baseman Joey Votto announced he has accepted a position as an air traffic controller.
The idea came to Votto during the first few days of being on the Reds disabled list for stress related issues. He reportedly completed an employment application at the Greater Cincinnati International Airport and accepted a job offer this week.
Through his agent Votto explained, "I am making this career change to reduce the amount of stress in my life. Air traffic control appears to be a relaxing way to spend the workday. When one plane is coming in, you tell it to land and then you tell the next plane to wait until the first one is done landing. Then you repeat."
Before accepting the position Votto spent a day at the airport observing other air traffic controllers. "This looks like a dream job. There will not be thousands of people staring at me. Reds fans screamed like their lives depended on me. From what I observed, air atraffic control does not come with that kind of pressure. It's not 'life or death' everytime you go to work."

Votto further commented, "I am also glad to be done with the stress of talking to Jeff Brantley. And there will be no organ music playing. The organ music was really the worst part about this job."

Before accepting his new position, Votto also used some of his time off to explore other potential professions such as firefighter, inner-city school teacher, and CEO of General Motors.