our breathtaking newsletter
Weekly gloriousness sent to your inbox.
Saturday, June 23rd - 7:30 AM-12:00 AM

DERF Happy Hour
Keep checking back here to find out where the next DERF Happy Hour will be!
Pete Rose declared eligible for Hair Dye Hall of Fame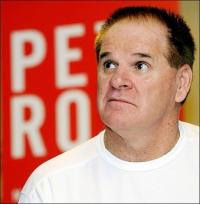 CINCINNATI - After a ban that lasted almost twenty years, one of the greats in the world of hair dye has finally been declared eligible for the industry's highest honor. Pete Rose will now officially become eligible for the Hair Dye Hall of Fame.

Pete has long been seen as a hair dye legend. Fathers would point him out to their sons saying, "Now that's how hair should look...give your hair 110%." Rose did commercials for Grecian Formula in the 70's and 80's, telling everyone that it would help them, "Play younger." His hustle, determination, and lack of streaks drew the admiration of the hair dye world.

But scandal struck in the 90's, when a committee found Rose guilty of wagering on how many grey hairs would be left after applications. There were also rumors that he was not paying taxes on money made from hair dye related speaking engagements, and that he was making back room deals with wig companies.

"As much as we loved Pete, we are very serious about protecting the integrity of the hair dye industry, his actions sullied the community, and we had to issue the ultimate punishment," explained Hair Dye Commissioner Larry Burkhart. "But now we are ready to forgive, we think that he has suffered enough, and he should be honored for the contributions he made."

The news came as a joyous surprise in Rose's hometown. "Ever since them big shots made Pete Rose a scapegoat, I ain't used hair dye ever since," declared Western Hills resident Mark Kunkle. "The day he gets into that Hall of Fame is gonna be the happiest day of my life, and I'm gonna start treating my hair again 'til it gets real dark and orangish just like Pete's."

No date has been set for the enshrinement, as Rose's schedule is quite full with appearances at hair dye memorabilia shows. But it is expected that the day will come soon, as Pete will be inducted into the Hall along with fellow inductee Regis Philbin.