our breathtaking newsletter
Weekly gloriousness sent to your inbox.
Saturday, August 24th - 1:00 PM-1:00 PM

DERF Happy Hour
Keep checking back here to find out where the next DERF Happy Hour will be!
Marvin Lewis takes Bengals out for ice cream after win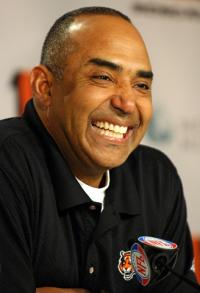 CINCINNATI - During the week of practice leading up to their game against the Baltimore Ravens, head coach Marvin Lewis promised his team they were in for a big surprise if they won. His promise was realized after Cincinnati's 17-7 victory, as the Bengals boarded a bus and were treated to ice cream.

"I could not be more proud of you guys," proclaimed Lewis as the team bus headed to the Newtown Dairy Corner. "But look, your work is not done. Seriously. I want everyone to know what they want, stay with their buddy, and behave while we are in line for our ice cream. Remember, nothing bigger than a medium cone. Mr. Brown's orders."

There were a few bad moments in the otherwise happy excursion. As the bus left Paul Brown stadium, it had to swerve briefly off the road to avoid Raven's linebacker Ray Lewis, who was apparently trying to hijack the bus and rob them of their ice cream money. Also, injured wide receiver Chris Henry was not able to make the trip, and was reportedly in tears after learning that lineman Robert Geathers had consumed his chocolate malt on the ride home. Geathers responded by saying, "It was getting all melted and soupy, man."

Overall, it was a very successful game and ice cream trip for the Bengals. Another happy moment occurred when they were reunited at the Dairy Corner with their former teammate, long snapper Brad St. Louis, who reportedly did an excellent job in making their cones.