our breathtaking newsletter
Weekly gloriousness sent to your inbox.
Sunday, March 1st - 12:00 PM-4:00 PM

DERF Happy Hour
Keep checking back here to find out where the next DERF Happy Hour will be!
Peyton Manning hopes Super Bowl appearance leads to endorsements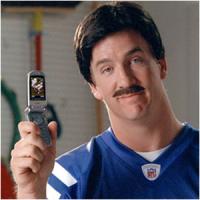 INDIANAPOLIS, IN - Peyton Manning has announced that he is thrilled to be one step closer to his ultimate goal for this football season: Getting more commercial endorsements. Manning also hopes to sign better endorsement deals that ones he already has with Reebok, Sprint, Direct TV, ESPN, Sony, Mastercard, Kraft, Target, Nabisco, Gatorade, DirecTV, HH Gregg, Applebees, T-Mobile, Coca-Cola, Office Depot, Cheerios, XBox, Toyota, Microsoft, Special K, V8, Best Buy, and Oreos."

"The Super Bowl is a fantastic opportunity to market the Peyton Manning brand," said the Colts quarterback. "In fact, if the team hadn't made it, I probably would have paid to run my own Super Bowl commercial to advertise myself as a great candidates to do commercials."

Despite expert predictions, Manning insists that he will be playing in the game against the Saints. "I thought about sitting out, to rest up and save myself for the long endorsement season," he explained. "But I think it is important for me to keep up my level of intensity so I'm prepared for the hard grind of the make-up chair and memorizing whole sentences."

"I'm so proud of my team and the way they've played this year," said Manning. "We all managed to stay focused on what we wanted to achieve: Getting me more endorsement gigs.