our breathtaking newsletter
Weekly gloriousness sent to your inbox.
Saturday, June 23rd - 7:30 AM-12:00 AM

DERF Happy Hour
Keep checking back here to find out where the next DERF Happy Hour will be!
Bob Huggins comforts Tiger Woods on 18th green at Augusta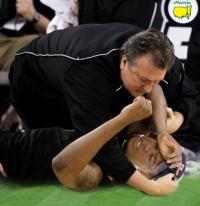 AUGUSTA, GA - After completing the final hole of the 2010 Masters, Tiger Woods realized that he would finish no better than fourth place. A few tears came to his eyes and he collapsed on the green seemingly inconsolable, until he was met with the warm embrace of coach Bob Huggins.

Huggins cradled Woods in his arms and offered him reassuring words. Observers who were close enough to hear the exchange say that Huggins began by simply making soft cooing noises followed by words of encouragement. "This is just a little bump in the road Tiger, there will be more tournaments, more endorsements, and definitely more booty."

Even Masters Champion Phil Mickelson was touched by the scene. "That is one sweet shining moment," said Mickelson. "I might give up my green jacket for a little bit of man love from that beautiful teddy bear of a fella. He gives good hug."

Tiger seemed both consoled and newly invigorated after his loving roll on the grass with Bob Huggins. "I felt like it was the end of the world. I had just spent an entire stupid weekend on the golf course and all I got out of it was $330,000. Bob made me realize that there are better days ahead."

Huggins plans to take his unique power of comfort on the road during the college basketball off-season. He has reportedly been contracted to provide consoling to the Cincinnati Bengals and their fans for the entire 2010 NFL season.
Related Stories