our breathtaking newsletter
Weekly gloriousness sent to your inbox.
Saturday, November 16th - 5:00 PM-10:00 PM

DERF Happy Hour
Keep checking back here to find out where the next DERF Happy Hour will be!
Oakley Man Wants Equal Rights for Dog Fighting Fans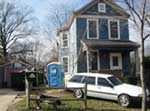 Dog fighting has become a popular Oakley event in Toby Johnson's house on Isabella Avenue. Every Friday night neighbors gather to wager on their favorite pitbull. Johnson complains he is forced to host the event in secrecy every Friday night due to over zealous law enforcement officials. Arguing that dog fighting plays an important cultural role in the neighborhood, Johnson said, "Dog fighting is the glue that holds this community together. Without it we would probably be like all those degenerates hanging out at Arthur's." If you would like to be a part of this refreshing and innovative community event, call (513) 731-4891.