our breathtaking newsletter
Weekly gloriousness sent to your inbox.

Friday, May 24th - 9:30 PM-12:00 AM
DERF Happy Hour
Friday, Jun 21 - 5:30PM-9:30PM
Toby Keith's restaurant leads way in toothless cuisine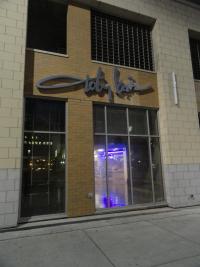 CINCINNATI, OH - The Cincinnati franchise of Toby Keith's I Love This Bar has received national recognition for it's innovative cuisine that caters to the toothless. The chef's creations have caused thousands of people to leave Toby Keith's restaurant happy, bearing cheery, toothless grins.

"We noticed we were getting a lot of requests for rare hamburger," said cook Mark Bishop. "Then, we discovered that customers were mashing up the raw burger with ketchup into a stew-like consistency that was easier for them to chew. It dawned on me that we needed to do more to service that toothless segment of our guests. Thus, the "Roadkill Mash" was born. It's served with our Granny's Creamed corn, Darn Tootin' Fine Applesauce, and a ten ounce glass of Ten High Bourbon."

Other toothless cuisine innovations include the baby back rib milkshake, the chicken salad smoothie, and the pureed shrimp served in oatmeal. "I used to work at a retirement community, so I'm familiar with the situation," said food manager Stan Tierney. "Although guests at Toby Keith's are a bit more adventurous and like their food with a lot more flavor. Years of tobacco use has deadened their taste buds a bit, so we layer on the flavor. And, we also have a tasting menu that can be ordered with a chewing tobacco pairing."

Cook Mark Bishop also pointed out that the emphasis on food that can be easily consumed by the toothless has helped with the general atmosphere at the restaurant. "We had people pulling knives out of their boots to grind down their food extra fine," he explains. "That's just not a good look for a restaurant. Not to mention the groups who would have one partially toothed person as the 'designated chewer' for the entire table."

"We take our customer's satisfaction seriously here," said restaurant general manager Todd Ervin. "We know that after a hard day in the meth lab, followed by a half-drunk trip to WalMart, followed by some sporadic domestic violence, our guests are looking to unwind. We want to come in here, have a seat, and enjoy on one of the best meals they've ever gummed. Then, we'd like for them to leave quickly without stealing anything or lingering long enough to infect our staff with chiggers."