our breathtaking newsletter
Weekly gloriousness sent to your inbox.

Wednesday, December 11th - 11:30 AM-10:00 PM

DERF Happy Hour
Friday, Dec 6 - 5:30PM-9:30PM
Mayan credit card debt soars as end of the world nears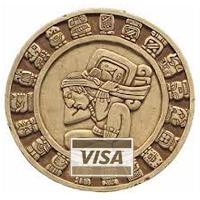 MEXICO - Holding a firm belief that the end of the world would take place on December 21st 2012, Mayan credit card debt has skyrocketed to points never before seen. Mayan charges to credit cards in 2012 have surpassed those of all other civilizations, ancient or otherwise.

"Why in the world would I be concerned about debt?" said Mayan consumer Eloise Torez. "With the end of the world coming, the last thing on my mind are bills that show a 2013 due date. I would have opened up a few more accounts, but I didn't realize that there was not going to be a 2013 until I got to August and realized that my calendar didn't go that far."

It isn't just increased debt that is having an impact on the world Mayan credit card dealings. In addition to racking up purchases, Mayans who believed that the end of the world is around the corner have been quickly cashing in their credit card reward points. "Most of the points are being spent on perishable items," said Mastercard rewards spokesman Kevin Hale. "I guess there is no sense in getting a TV remote organizer stand if you're only gonna use it for a few weeks."

The increased credit card debt among Mayans is not expected to have much of an impact on the world economy. "Luckily, we don't have many Mayan clients," said Bank of America spokesman Conrad Hubbard. "We have been carefully screening all credit reports from that region. We also find that many Mayans prefer trading gold and virgins for goods rather than charging them. We'd also like to thank Spanish Conquistadors and widespread disease for helping to alleviate this potential problem."