our breathtaking newsletter
Weekly gloriousness sent to your inbox.
Saturday, May 26th - 1:00 PM-1:00 PM

DERF Happy Hour
Keep checking back here to find out where the next DERF Happy Hour will be!
New craft brewery to replace Washington Park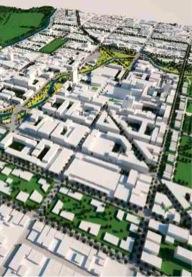 CINCINNATI, OH – Passion has again intersected with capitalism as investors in Over-the-Rhine introduce plans to re-purpose the six acre Washington Park site as a new craft brewery. This latest effort in the rapid expansion of the OTR brewing District is a collaboration between passionate beer enthusiasts and a group of developers eager to get involved in the revitalization of the city's urban core.

The new brewery company, named Rhineschfeldt Brewing, purchased Washington Park in a deal brokered by 3CDC. "The new Washington Park served us well for a couple of seasons but placing a craft brewery in its place is a welcome relief from the inherent expansive emptiness offered by the park. This is a much needed boost for the community." said 3CDC Director Martin Welsh.

Rhineschfeldt Brewing Founder Phillip Gerding said the new brewery will have the capacity to produce an infinite number of barrels per year. Gerding explained, "The craft beer market has absolutely exploded. Our research indicates 100% of people want as many craft beers as they can get seven days a week. With an infinite brewing capacty, we can meet that need."
A string of new craft breweries have been announced recently including the Rhineschvert Brewery which will open in the middle of the street on a block of Vine Street between 14th and 15th streets. Several lanes of traffic will be permanently closed to make room for the new brewery. Patrons will be able to drive through and pick up a variety of craft brews pre-ordered using a real-time order fulfillment technology utilizing embedded Twitter eCommerce hashtags. The technology was invented by the OTR tech startup company Rhinehash and launched at the SXSW festival using an innovative popsicle giveaway with matching t-shirts.

Another proposed craft brewery concept involves a fully functional brewery suspended in the air by a series of hot air balloons above Findlay Market. The balloons will be networked on a wi-fi system that allows visitors to coordinate balloon movements using a smartphone app called RhineMonster and developed by an OTR startup company being mentored by a regional seed stage 360 consumer marketing hub and solution-oriented venture accelerator.

RhineMonster developer Steven Richardson commented, "Consumers crave technology that helps them interact with their craft beer. We're creating an experience that makes people feel culturally relevant within the emerging realm of craft beer."