our breathtaking newsletter
Weekly gloriousness sent to your inbox.
Saturday, June 23rd - 7:30 AM-12:00 AM

DERF Happy Hour
Keep checking back here to find out where the next DERF Happy Hour will be!
Workers seek new ways to waste time after NCAA tournament ends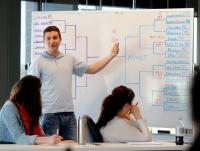 CHICAGO, IL - As the NCAA tournament winds to a close in less than a week, alert office workers have already begun plans on new ways to waste time once the tournament ends and their brackets become obsolete.

"This isn't going to be like all those other years," said Morgan Stanley broker Kevin Slater. "Where after the NCAA tournament is over, two or three people join in a pool on the Masters Golf Tournament and everyone else spends eight hours a day working. The time has come to put effort into creative, fun ways to waste time at work. And, if they involve gambling, that's even better."

The CitiGroup office in Des Moines, Iowa has made extensive plans to waste time following the NCAA Championship Game. "We've already got it planned out," said middle manager Jeffrey Willis. "First, we're going to have a drawing to see which 64 people in the office get to participate, then we're going to have another drawing to pick 64 people to decide what it is we are going to participate in. After three or four months of working on this for five or six hours a day, we should have a really great plan to waste some time at the office."

In the offices of The City of Cincinnati, employees have continued their excellence in wasting time that has set the standard for time wasting for decades. "We have a really good time waster that actually has been going on for a few months now," said receptionist Karin Fisher. "We're gonna get people all fired up over a parking plan, then sit back and watch while two opposing sides make stuff up about what the plan means to the citizens. It's amazing how fast this makes the day go by."