our breathtaking newsletter
Weekly gloriousness sent to your inbox.
Saturday, May 26th - 1:00 PM-1:00 PM

DERF Happy Hour
Keep checking back here to find out where the next DERF Happy Hour will be!
Area church gives up religion for more profitable church festival business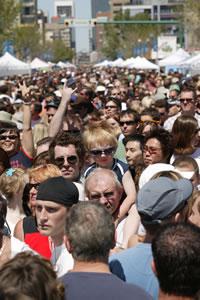 CINCINNATI, OH - The parish council of St. Alexander Church in the west side of Cincinnati has decided to give up traditional day to day religion in favor of the more profitable business of church festivals. The decision came after a record setting church festival weekend at St. Alexander.

"To understand our decision you just need to open your eyes," explained parish council member Frank Tremain. "Look at the faces of people who are at a religious service....sleepy, melancholy, maybe a bit dazed. Then, look at people who are at a church festival...bright eyed, full of wonder, and maybe a bit pleasantly intoxicated. Happy customers equals more money! Happy drunk customers equals boatloads of more money!"

The parish will begin operating as a full time church festival business in the coming month. "Instead of renting all of these games, rides and tents, we're going to go ahead and buy them," said Tremain. "After a few weekends of fun, the duck pond and giant rat wheel will have paid for themselves."

Changes will also be made to the St. Alexander property in order for the new business to function at its best. "We're going to have to get rid of that actual church building," said new St. Alexander Festival CEO Glenn Luebbers. "It takes up way too much room on our property, and it will be much cheaper to level it rather than spend all the money to turn it into a poker room. We thought about making it the food court, but those bench things are all facing the same way, and no one wants to eat funnel cake while looking at the back of someone else's head."

The St. Alexander festival will now run year round. Former employees from the religion oriented department of the former church will be given an option to stay on. "We're talking to the guy who used to do all the talking during the religious stuff," said Luebbers. "We think that with a little training, he has the theatrical flair to someday do an excellent job of running the giant dice game."