our breathtaking newsletter
Weekly gloriousness sent to your inbox.
Friday, July 26th - 12:00 PM-12:00 AM

DERF Happy Hour
Keep checking back here to find out where the next DERF Happy Hour will be!
Chipotle line slowed by customers mulling over e-coli choices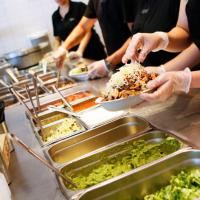 MANCHESTER, OH - On what would normally be a relaxed day at the local Chipotle restaurant, stressed out patrons have been waiting in an extraordinarily slow line. The unusual lack of swift movement has been blamed on many customers taking longer than usual to mull over the various e-coli choices for their orders.

"It seems like this used to go faster," said customer David Wells as the line slowly progressed in front of him. "I guess I can understand it though. In a perfect world, people would know what kind of e-coli they wanted before they walked in the door. However, even as I stand here I can't decide. And I'm not sure it will be easier to do when all of the e-coli choices are presented right there in front of me."

"I had to go with the lettuce," said customer Megan Davis. "I went back and forth, because the e-coli tainted tomatoes seemed like they were really gonna be the ingredient that would make my burrito sing. But once I saw that lettuce, there was no going back. So I told him to heap a big pile of stomach cramping goodness right there in the middle of my tortilla. Looking forward to it!"

Chipotle employees are doing there best to handle to indecisiveness of their guests. "Sometimes it takes a lot of patience," said employee Mike Crowley. "Especially when it comes to the sauces. It seems people are never quite sure if they're in the mood for hot, medium, or mildly spiced e-coli. It's all part of the business though. I'm sure we'll run into the same problem next month when we roll out our new line of ptomaine choices."