our breathtaking newsletter
Weekly gloriousness sent to your inbox.
Saturday, June 23rd - 7:30 AM-12:00 AM

DERF Happy Hour
Keep checking back here to find out where the next DERF Happy Hour will be!
Car on top of Cadillac Ranch gets parking ticket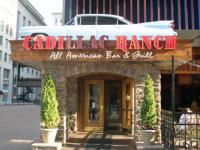 CINCINNATI – Owners of Cadillac Ranch were surprised this week to find a parking ticket on the car parked on top of the restaurant's entrance. Cincinnati Police Officer Chris Albach issued a $50 parking citation on the car for being parked in a no parking zone. Officer Albach commented, "If we let everyone park on top of building entrances what would this city look like? All no parking zones are strictly enforced." The Cadillac Ranch General Manager Paul Sunderman said the company does not plan to pay the ticket because the car does not belong to Cadillac Ranch and he does not know why the car is parked there. Sunderman said, "We believe a drunk driver may have inadvertently parked the car there and forgotten about it on opening night. Normally we would tow any car parked on our property but since it is a Cadillac we decided it fits nicely with the theme of our restaurant. However we do hope the owner returns to reclaim the car sometime soon." Reportedly on several occasions intoxicated patrons leaving the bar have mistaken the car for their own and attempted to drive it. Additionally, other nuisance issues have arisen including a recurring oil leak that had to be repaired after oil dripped onto the staff members while greeting customers.