our breathtaking newsletter
Weekly gloriousness sent to your inbox.
Saturday, October 26th - 12:00 PM-5:00 PM

DERF Happy Hour
Keep checking back here to find out where the next DERF Happy Hour will be!
Come near me again with that Tide Pen and I swear I'll...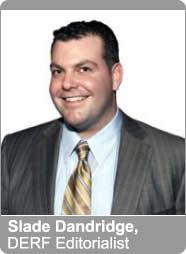 By Slade Dandrige, DERF Lifestyle Columnist

So do all women carry a Tide Pen with them now? No matter where I go, women seem to carry their trusty Tide Pen with them. I have observed the growth of this Tide Pen phenomenon over the last couple year in bars, restaurants, meetings, etc. Seriously, the slightest stain and outcome the Tide Pens.

This reached new heights last week when I was at a barbecue and a single baked bean barely grazed my shirt.....and BAM! An army of Tide Pens appeared instantly. Like Service Service agents drawing weapons in response to a threat to the President, the entire roomful of women stood armed with uncapped Tide Pens. They said almost collectively, "Here this should help get it out." I was overwhelmed. I hadn't even noticed a stain yet. Before I realized what was happening, at least four Tide Pens descended on my shirt. I was being dabbed, poked, and rubbed by a legion of passionate stain removers.

At first I thought the attention was because I am a highly successful magazine columnist. My fans know that I am a high-profile individual and it is natural for them to want me to look good at all times. I get that. But this is something different. This seems to be bigger than me. I can't explain it but all I know is none of us are ever more than a single dab away from a complete stain removal. There are people lurking around us at every moment waiting for the opportunity to dab something.

Overall, I am thankful to be watched over so diligently by the stain removing public. I take great comfort in knowing I am always protected from any serious threat of a stain.

As a gesture of gratitude to my protectors, in the most recent printed issue of DERF I included a fresh stain for people who may enjoy using their Tide Pen while reading DERF. This kind of customer service is the reason I am the most successful columnist in the Tri-State area. I know my readers and I know they crave stain removal opportunities. Who knows what treats the next DERF issue may hold? The opportunities range from anti-static treatment to scratch-n-sniff osteoporosis medication. The DERF Labs are working on it at this very moment.