our breathtaking newsletter
Weekly gloriousness sent to your inbox.
Monday, April 6th - 1:00 PM-1:00 PM

DERF Happy Hour
Keep checking back here to find out where the next DERF Happy Hour will be!
Trendy suburb built inside IKEA store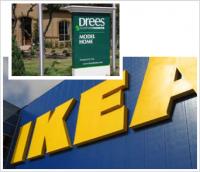 CINCINNATI - The Drees development corporation has completed construction of a trendy housing community inside the recently opened 500 acre Westchester IKEA store. The store will be home to a sprawling suburban development of over 150 homes spanning over two dozen cul-de-sacs. The development features an eighteen-hole golf course, an open air shopping mall, a commuter airport, and a community sports and recreation complex.

Buyers are able to choose from a wide variety of home models with names like the Karlskjrona, Hastveda, Leksvikaa, Aashpvikk, Zsergstoord, Schlertsztwaad, Fernkschtoop, Vlinktenveerk, and Tyloschtand. All of the models require a considerable amount of self-assembly by the homeowner. Each home will be furnished exclusively with IKEA furniture which will also require self-assembly by the homeowners. Critics say homeowners will likely grow frustrated with the intensive effort required to self-assemble an entire house and furnishings using low cost particle board materials.

Drees officials also announced the 2009 Homearama tour will be held inside the IKEA store. IKEA shoppers will have the opportunity to walk through each of the suburb's 150 modern Scandinavian style houses.

Planners say the massive size of the store leaves room for additional future development possibilities. Ideas under consideration are a relocated King's Island Amusement Park, the City of Dayton, and an Indian gambling casino.
Related Stories