our breathtaking newsletter
Weekly gloriousness sent to your inbox.
Saturday, May 26th - 1:00 PM-1:00 PM

DERF Happy Hour
Keep checking back here to find out where the next DERF Happy Hour will be!
I'm paid handsomely for my ability to stay ahead of you, the reader.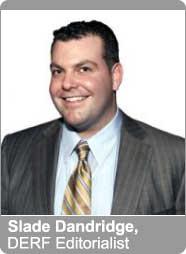 To me, being a highly successful magazine columnist is like playing a chess game with millions of readers simultaneously. And I play this particular brand of chess better than anyone. I have the ability to anticipate what you, the reader, want to read about next. It's like I can read every reader's mind all at once. For instance I chose the topic of this week's column because I know that every reader wanted to read about how I know what every reader wants to read about.

When you consider that I can understand and satisfy the desires of millions of fans, it is easy to see that my skills are almost God-like. How do I do it? I believe it is partly a gift I was born with and partly the result of years of dedicated skill development. Just as a Ninja moves stealthily through the black of night, I quietly create a masterpiece each week that perfectly meets the needs of everyone who reads it. Both the Ninja and I defy the odds in breathtaking fashion. There is only one difference between us: The Ninja's weapon is a deadly sword and my weapon is an innovative wireless keyboard made by Logitech. I included that last line because I have the insight to know my readers are interested to know what kind of keyboard I use when I write my columns.

So far in this column I have used three metaphors (Chess, God, and Ninja). Having the ability to pack this many metaphors into a few brief paragraphs is another reason I am so highly paid. Also my powers of perception have informed me that my readers cherish the use of metaphors.

As you may have guessed I already know what you, the reader, want to read about next week and the week after that. Rest assured, each column will leave you breathless just as this one did.