our breathtaking newsletter
Weekly gloriousness sent to your inbox.
Saturday, August 24th - 1:00 PM-1:00 PM

DERF Happy Hour
Keep checking back here to find out where the next DERF Happy Hour will be!
White House asks manager of Oakley Fat Burger to step down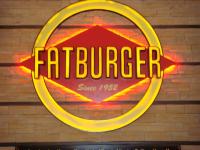 OAKLEY - After requesting the resignation of General Motors CEO Rick Wagoner, the Obama administration continued their hands on approach, calling for Oakley Fat Burger manager Richard Hiatt to resign his post.

Acting on counsel from the Oakley Community Council who deemed the Fat Burger 'too big to fail', the White House is taking steps to prevent the financial collapse of the entire burger industry and identified the Oakley Fat Burger as a vital part of the local economic burger engine.

The news came as a shock to Manager Richard Hiatt, as he had hoped to lead the Fat Burger through the current economic crisis. "I know that I haven't always been the perfect boss, but I've put my heart and soul into this Fat Burger. However, I serve at the pleasure of the President and the Oakley Community Council."

Customers like Jenny Noble reacted to the news with disbelief, "I've been coming here for a lunch combo every day for six months now and I'm shocked. Although I'm not sure which guy is the manager. Does he wear a headset?"

Employees were shocked by this move. Drive-thru employee Ryan Schwab stated, "This place is run way better than Steak & Shake. Ketchup bins are always filled. The fryer always gets cleaned out. Richard shouldn't get credit for all of this but I feel he was leading Fat Burger to the next level."

News of Hiatt's departure sent Oakley Fat Burger stock tumbling, but then rallied higher upon rumors that the new manager will be Jerry from the Kenwood Johnny Rockets.