our breathtaking newsletter
Weekly gloriousness sent to your inbox.
Saturday, June 23rd - 7:30 AM-12:00 AM

DERF Happy Hour
Keep checking back here to find out where the next DERF Happy Hour will be!
Fiat offers free Chrysler dealership with every car purchase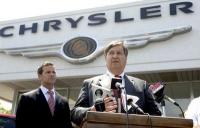 TURIN, ITALY - Shortly after buying a stake of the Chrysler corporation, Italian automaker Fiat announced a groundbreaking incentive plan, giving consumers a free Chrysler dealership with the purchase of a car.

Fiat spokesman Ricardo Consolo hopes consumers respond favorably to the plan, "We know that it's not a toaster or a calendar, but hopefully people will enjoy their free dealerships. Our customers can do whatever they want with it. Flea markets and petting zoos are popular options. More risk tolerant customers are actually considering selling Chrysler automobiles."

Consumers seem excited by the program. David Bishop is planning on taking advantage of the free dealership as soon as possible. "I was weighing either getting a Mercedes or a Fiat, but this sealed the deal," stated David. "Not only will I get a nice piece of property, they're going to throw in the balloon machine and all the tools from the service department. I haven't been this excited about something Chrysler related since the K-car."

The program will continue until the remaining Chrysler dealerships are all given away, or until the corporation is resold or taken over by the government, whichever comes first.