our breathtaking newsletter
Weekly gloriousness sent to your inbox.
Thursday, April 26th - 6:00 PM-8:30 PM

DERF Happy Hour
Keep checking back here to find out where the next DERF Happy Hour will be!
Oscar Meyer awarded Nobel Prize for meat extrusion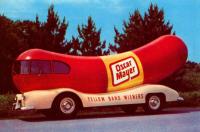 STOCKHOLM, SWEDEN - Oscar Meyer has been rewarded for their many decades of hard work in the field of meat science with the industry's highest honor: a Nobel Prize for meat extrusion. They were awarded the honor despite stiff competition from others in the meat extrusion sciences, including Kahn's, Eckrich, Hillshire Farms, and JTM.

"We could not be more excited to be Nobel meat extrusion laureates," stated company CEO 'Skippy' Meyer. "This is a testimony to all of our employees who have embraced their passion for extruded meat products. Indeed, the Nobel Prize has a first name, spelled O-S-C-A-R."

The award will be formally presented December 10th at the Nobel Prize Awards Ceremony. Oscar Meyer has offered to cater the awards banquet, bringing a variety of meat trays, lunchables, and hot dogs for the grill. Meyer went on to say, "I'm also hoping to figure out a way for us to ship the Wienermobile over to Sweden. I'd like to take the Dalai Lama out for a spin."

The Wienermobile will eventually be outfitted with the Nobel Medal. It will be placed on the front like a hood ornament.