our breathtaking newsletter
Weekly gloriousness sent to your inbox.
Saturday, June 23rd - 7:30 AM-12:00 AM

DERF Happy Hour
Keep checking back here to find out where the next DERF Happy Hour will be!
Water fowl assist in cleanup of Dawn dishwashing liquid tanker spill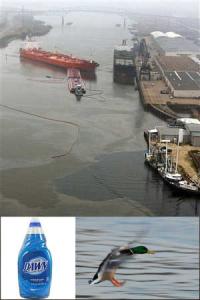 BATON ROUGE, LA - Following the disastrous tanker spill which resulted in thousands of gallons of Dawn dishwashing liquid spilling into the ocean, area water fowl have mobilized to help in the clean-up effort.
Thousands of ducks, cranes, and seagulls have been arriving at the sight of the spill ever since the dishwashing liquid tanker the USS Dawn ran aground just off the Louisiana coast. The birds have been systematically diving into the dishwashing liquid tainted waters in an effort to soak up as much of the soap as possible.
"It may be an evolutionary occurrence that various water birds now enjoy being coated in Dawn dishwashing liquid," explained animal behaviorist Marvin Staples. "Because generations of birds have been coated with Dawn as a result of various oil spills, many species now see Dawn as a necessary part of their ecosystem."

Dawn dishwashing liquid officials have offered to pay for the company's share of the cleanup. Local water fowl have not yet asked for compensation, but it is expected that they will demand up to 500 billion dollars in smelt and herring for their trouble.