our breathtaking newsletter
Weekly gloriousness sent to your inbox.
Wednesday, April 25th - 6:30 PM-8:30 PM

DERF Happy Hour
Keep checking back here to find out where the next DERF Happy Hour will be!
Monroe Hustler store thankful to be spared from God's wrath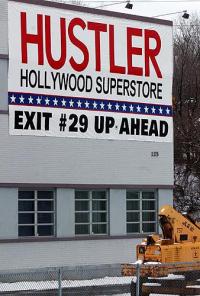 MONROE, OH - After watching the 62 foot tall statue of Jesus burn to the ground just down the road from their store, employees of the Hustler Hollywood store have expressed gratitude for being spared from a similar fate.
Religious leaders around the world have been discussing the situation, but none have offered up an explanation as to why the statue burned while the Hustler store remained unharmed. Hustler shopper and former priest Ken Comer, however, has his opinion, "The Ten Commandments don't go into specifics about nipple clamps, edible underwear or Chunky Buns Magazine, but they're pretty clear about building graven images."
Business at the Hustler store is expected to increase in the wake of the fire. Many patrons would reportedly think twice about visiting a sex store after driving past a giant statue of Jesus. Others would mistakenly drive to the Solid Rock Church instead of Hustler Hollywood after confusing the sculpture with adult film star Ron Jeremy. The resulting embarrassment and/or salvation would keep these potential customers from ever shopping at Hustler.

"We're glad to still be here, and we're glad no one was hurt," said Monroe Hustler manager Paul Gibson. "And we're very glad we never went ahead with our plans to build a 62 foot tall styrofoam and fiberglass statue of Larry Flynt out front. We were going to, but Larry thought it was too tacky."