our breathtaking newsletter
Weekly gloriousness sent to your inbox.
Saturday, May 26th - 1:00 PM-1:00 PM

DERF Happy Hour
Keep checking back here to find out where the next DERF Happy Hour will be!
Last subscriber to Cincinnati Enquirer print edition enters hospice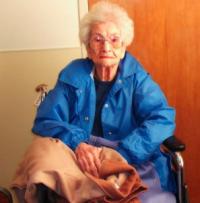 CINCINNATI, OH - The end of an era has approached in Cincinnati media, as the last subscriber to the Cincinnati Enquirer print edition has entered hospice at age 104. Margaret Twyman began her subscription to the Enquirer in 1926, and has had the paper delivered to her home ever since.
Mrs. Twyman's granddaughter Ellisa says that Margaret enjoyed her status as the last subscriber for home delivery. "She would sometimes wake us kids up at 5 am so we could see the man throw that rolled up paper on the lawn from his car. We always thought it was a neighborhood prankster, but she said that lots of people used to get their papers that way back in the day."
Though Margaret was the last Cincinnatian to have the paper delivered to her home, the Enquirer is quick to point out that they still produce a print edition. "The print tradition of The Enquirer will not be going away," said editor Tom Callinan. "Print editions can still be found for purchase at several locations, most notably at busy intersections where traffic easily backs up on Sundays. Now, if you'll excuse me, I have to go leave my bottles out for the milkman."

Enquirer officials say they also plan to deliver the paper as a courtesy to R.P. McMurphy's pub in Oakley where the paper is hung on the wall in the men's room above the urinals each day for patrons to read while relieving themselves.
The paper will continue to be delivered to the St. Andrews Hospice facility as Margaret's account is paid in full until February 2012. Ellisa Twyman says she will never forget the memories home newspaper delivery brought to her family, "I can still picture her in her robe, going out to the lawn, picking up the paper, and tossing it in the recycling bin. Then she'd come back inside and read the news on her Kindle."