our breathtaking newsletter
Weekly gloriousness sent to your inbox.
Sunday, April 22nd - 11:00 PM-5:00 PM

DERF Happy Hour
Keep checking back here to find out where the next DERF Happy Hour will be!
McRib's return bolsters US sodium content by 500%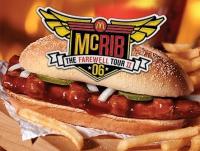 OAK BROOK, IL - As the McRib sandwich made its yearly return to the McDonald's menu, nutritionists and scientists have discovered a considerable spike in the nation's sodium level. The increase has been measurable not just in the human body, but in the environment as well.
In some areas, the sodium level has reached such massive highs that buildings and roadways appear to be covered with a white, chalky sodium residue. Residents in these areas also report the distinct taste of salt in the air and drinking water. "When I walked outside this morning, I almost fell over," said Kerry White of Gary, Indiana. "It was like I was breathing in and out from a pretzel bag."
Some scientists believe that the rise is a temporary situation, and say that the nation will soon be back to a normal sodium level. "This is a cyclical condition," said DePaul researcher Kevin Tierney. "We see this rise every year, but it usually seems to go back down when McRib makes its yearly departure. It is always worst the first week of McRibs return when its obviously ravenous fans eat five or six in a sitting."
Other scientists say that the massive damage being done needs to be addressed before there are devastating consequences. "There is no other nation on the planet being this irresponsible," said Harvard scientist Richard Hampton. "In Japan and throughout Europe, McRib returns every four years and is only available for one day. The drying of our nation's creek beds is a direct result of our over consumption of McRib. Further natural disasters are inevitable."
Geographers have noted that if the nation's sodium content does not decrease, maps of the United States may have to be redrawn. Cartographer Michael Stigg explains, "The excess sodium seems to have caused swelling in our country's extremities. Maine, parts of Western Washington, and especially Florida are looking quite bloated."
Former VIce President Al Gore has not commented on the situation, except to say that he prefers the KFC Double Down sandwich because it is available year round.